Photo #1
We asked members of our support group to participate by signing and/or writing anything they wanted to on sheets of fabric. Some wrote comments, some wrote the names of their loved ones in memory, and some wrote the names of their loved ones to honor them. Then we cut their individual entries into strips.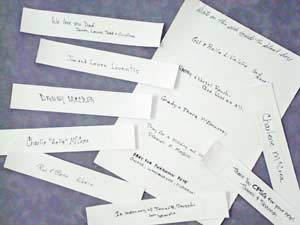 CPSG Quilt Panel In Progress
Photo by Dottie Gantt
Photo #2
Using a traditional quilt log cabin pattern, we paired different signed strips together to go around the center square.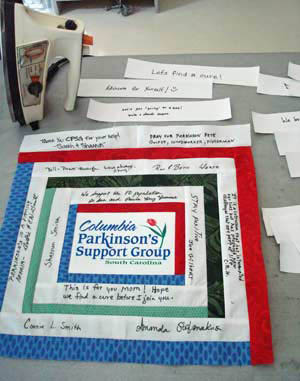 CPSG Quilt Panel In Progress
Photo by Dottie Gantt

Photo #5
Panel Number #2418 and Block #17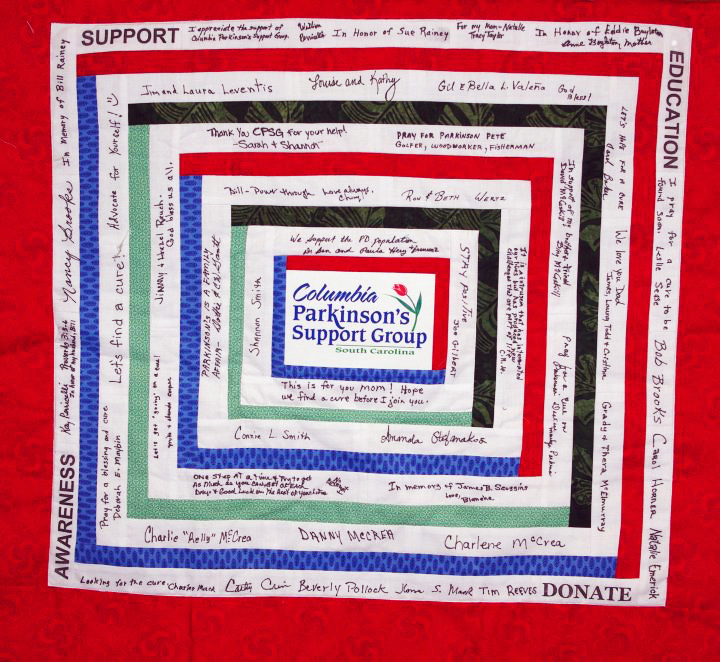 Completed CPSG Quilt Panel
Copyright 2010 by Dottie Gantt

Photo by Dottie Gantt

Click Here To See A Large View Of This Panel


The Columbia (SC) Parkinson's Support Group is proud to be a participant in the 2010 PDF Quilt Project. We were asked to provide a statement about our quilt panel.

"Our group members participated in making their panel by signing strips of fabric with their names, a sentiment, or writing in "honor of" or "memory of" a loved one.  The final red border around our panel is for the Parkinson's red tulip. The log cabin quilt design represents that Parkinson's disease is a family affair, and caregiving starts in the home.  We included the words of SUPPORT, AWARENESS, EDUCATION, and DONATE because -- AWARENESS about Parkinson's is needed in our communities, local, state, and national governments. Providing SUPPORT for patients, their families, their caregivers, and our medical community is very important. EDUCATION is essential for everyone whose life is touched by Parkinson's. Please DONATE money for continued research. Without research a cure will never be found. It is our hope and prayer that a cure for Parkinson's will be within our lifetime. "

Panel designed, pieced, and quilted by Dottie Gantt.
Completed on 5/23/2010
Click here to see the "Official Parkinson's Quilt Book" on the Parkinson's Disease Foundation website Find our panel on page 24 on the right-hand side bottom of the block.

Helpful hint when looking at the Quilt Book on the above link. To enlarge this book, hover over the image of the book until you see "View in Fullscreen." Once you are in the larger version, you can also click again to zoom in or out.  Would you like to turn the page? Click the middle arrows located at the right and left of each page. To get out of this full screen mode and get back to your regular screen viewing, click on your "ESC" keyboard key.
On Facebook, click here to see our panel in the PDF quilt

On Facebook, click here to see our panel in Block 17 as they were putting the block toghether Our panel is on the right at the bottom of the block

Please feel free to leave your comments about the project and / or our participation in the quilt project on the following Facebook link.

For an additional Facebook photo of Block 17 Click Here If you click on the individual panels you will see an enlarged view of each panel